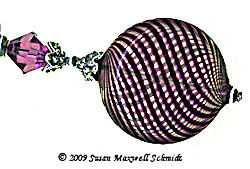 Please be sure to read the terms concerning special order versions of LongLocks HairSticks on our Ordering Information page before requesting a design.



There is only one special order version of this design available.
A single stick version of this design is also available,
please contact us for pricing information.


Please note that RapunzelStix may always be special ordered in the GlimmerStix style if you feel these may be too long for you. Simply put a note in the feedback field in the shopping cart that you would prefer your one-of-a-kind design created on the shorter bone sticks and we'll be happy to do that for you!

The end of each of these hair pins is adorned with a phenomenal hand blown hollow Chinese art glass lampwork bead with deep purple ribbons that create a laticcino effect as you look through the glass, nestled into an ornate double-ended Turkish sterling silver filigree bead cap. A Swarovski Amethyst bicone crystal sits below. Silver plated heishi beads complete the hair jewelry design. The hair sticks are elegantly carved wood, hand painted in satiny amethyst purple under layers of protective clear enamel. These one-of-a-kind, extra long special edition Purple Laticcino LongLocks RapunzelStix hair accessories measure approximately 8 1/8" from end to end, and are recorded in the LongLocks archive.
$97.00
Purple Laticcino Special Edition RapunzelStix (Special Order)



Reserve using the LongLocks LockAway layaway plan for only $32.34









Read the LongLocks LockAway layaway terms


Prefer to place your order by phone?
Call us toll-free at
1-87-RAPUNZEL
(1.877.278.6935)