Posts Tagged 'Alexander McQueen'
Art Deco has never been more flamboyant, as it triumphs in shoe design this fall. Christian Louboutin's genius continues to awe, but Alexander McQueen, Jimmy Choo, Valentino, and Gucci are not far behind. From Bergdorf Goodman's Shoe Salon, these are my choices:
Louboutin's Maralena Flame sandal at $2445 takes Best in Show.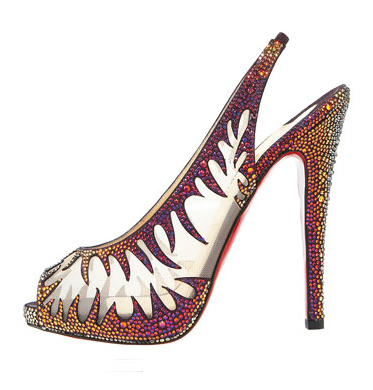 I also love his metal stiletto suede pump for $995.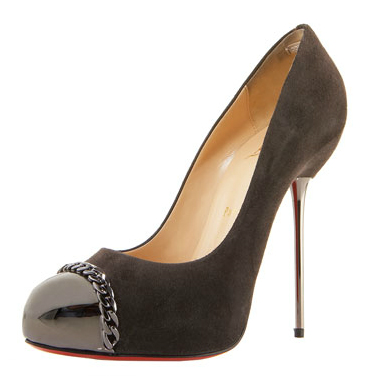 Nipping at Louboutin's heels are Alexander McQueen's Ankle-Wrap Finned Wedge Pump ($930)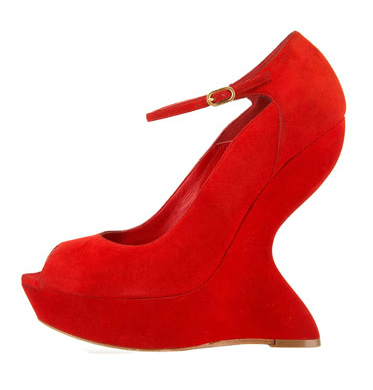 Jimmy Choo's Scalloped Lace Platform Pump ($995)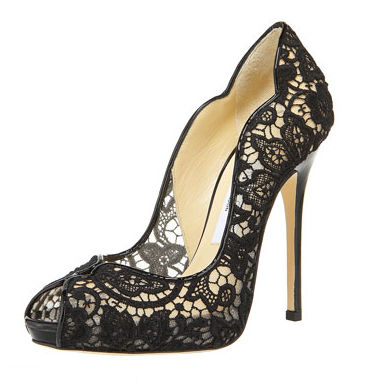 Valentino's Rhinestone Bow Satin Pump ($1195)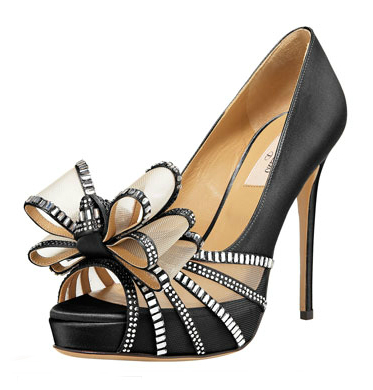 and Gucci's magnificent Alyona Over-the-Knee High-Heel Boot ($2495).
Filed Under: Style
By BarbaraAnne:
Fainting with exhaustion from not caring about the Arab uprisings, American floods, African chaos, and Afghan war, journalists obsessively speculated on who would design Kate Middleton's wedding dress. The day finally came. If it didn't, everyone would have died from unrequited anticipation. ;-)
When she got out of the Rolls Royce, Princess Catherine's magnificent gown was revealed. Sarah Burton, the creative director for Alexander McQueen, cut a modern design out of traditional satin, adorned with lacework. The dress itself was "something old, something new." The tiara was borrowed, and Diana's ring was blue.
British and Irish craftsmanship were celebrated today. Hand-cut French Chantilly and English Cluny lace flowers included roses and shamrocks. Lace artists used the Irish Carrickmacross technique: One applies muslin to a net base, following a design outline. Then the surplus fabric is cut away.
Her veil was ivory silk tulle trimmed with embroidered flowers, and was held in place by the 1936 Cartier Halo Tiara. Her shoes were also made of ivory silk by Alexander McQueen. Magnificent.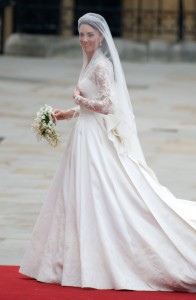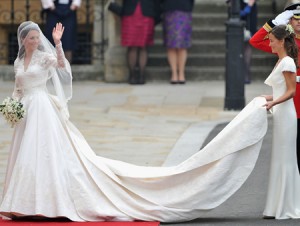 Filed under: Style
I'm going to miss this man, my heart still breaks.
Cinderella should have been so lucky as to have worn a pair of Alexander McQueen shoes.  If she had, I guarantee she would have stopped and picked it up.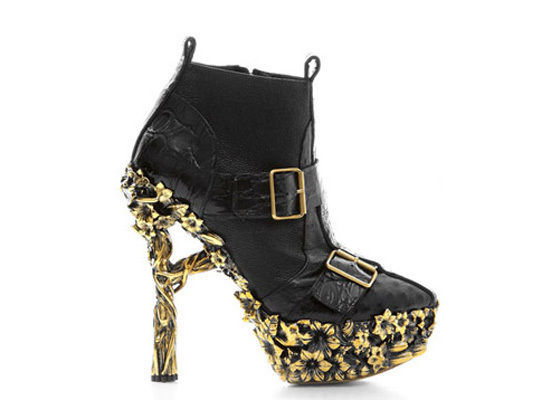 Filed under: Style
Alexander McQueen (of Armadillo shoe fame)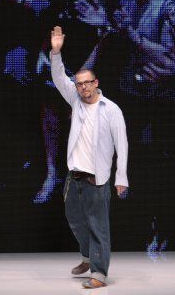 was found dead earlier today in his London apartment, of an apparent suicide.  It's a sad, sad day for the fashion industry, which has lost one of their greatest.  It's a sad day for me, too.  What a tragic loss of a young and influential fashion genius.
You can read the story at the Huffington Post.
UPDATE: Read what others in the fashion industry have to say about McQueen at WWD.  Hurry, WWD hides their posts to non subscribers after a day.
Filed under: Angst
Apparently, they both wear ridiculously large things on their feet.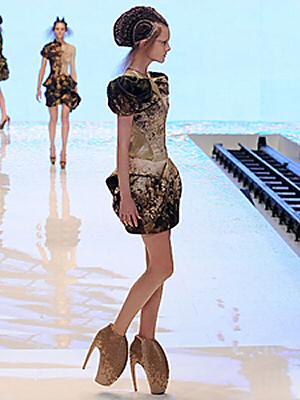 Alexander McQueen's Armadillo shoes on the catwalk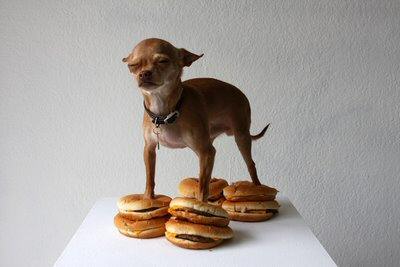 Chihuahua wearing cheeseburger shoes – Photo by William Hundley
Filed under: Style
Apparently a few models are abdicating the Alexander McQueen throne and are refusing to walk the catwalk in his treacherous armadillo shoes, and McQueen is declaring "Off with their heads!" in return.  I mean really, who can blame them?  Not only are they dangerous, they gotta weigh more than the models who are expected to wear 'em.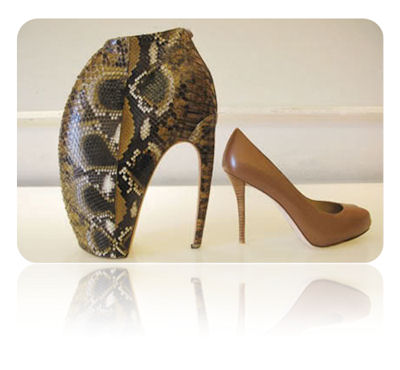 Read the full article at the Huffington Post.
Filed under: Style, Angst
Hey kidz!  Did ya miss me?  Ya, I know, I've been remiss.  I don't get much time to come up for air this time of year, it's the nature of the biz.
So anyways, I'm doing my usual "too late to have not missed all the good stuff I can afford" stroll through the private sale boutiques, and I came across this beauty  at Gilt Group and thought I just had to share: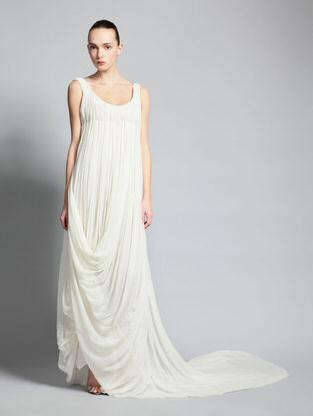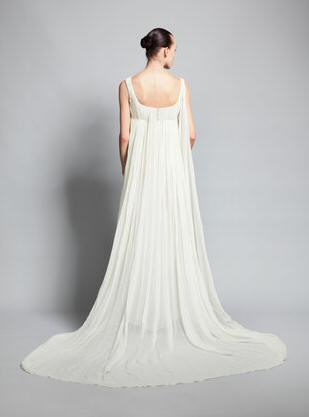 It's a crinkle silk draped gown by Alexander McQueen… just GORGEOUS!  It even has boning!  They apparently have two left, A European  size 38 and a size 40.  The 40 measures  34 inches in circumference at bust. 70 inches from shoulder to hemline.   It's also available in black.  Neither of which will be mine, yet once again.  But just ONCE in my life I want to wear a gown with a train!  Just ONCE!  I missed the chance when I got married.  Don't ask.
Anyway, it can be some lucky, painfully skinny girl's for the bargain price of $998.  And considering the retail price was $3,975 it IS a bargain!  And note the model is NOT wearing Armadillos.
Gilt is one of those private sale sites for which you have to contact me to get an invite.  I'll be standing by as the requests come pouring in from all of you lucky ladies who are hot to buy this beauty!
Filed under: Style