Posts Tagged 'LongLocks HairSticks Boutique'
I am thrilled to tell you that the internet-wide protest was a great success and both the SOPA and PIPA bills were dropped by Congress yesterday (the 20th). The protest was seen by huge numbers, check them out at SOPA Strike. Thank you to all who participated and changed what was thought to be a sure thing!

The LongLocks HairSticks Boutique and Style & Angst blog are participating in an internet-wide protest against two bills currently being considered in the US House and Senate. Called SOPA and PIPA, these bills threaten to destroy the internet as we know it.
If either one passes, your favorite sites could disappear forever.
Filed under: Angst
Barbara Steinberg of Barbaraanne's Hair Comb Blog has conducted and posted an interview with me all about LongLocks HairSticks!  You may know Barbara as a frequent guest poster on Style & Angst.  Check it out!  And thank you Barbara!
Filed under: Style
The LongLocks HairSticks Boutique is pleased to present our brand new Twitter e-zine, The LongLocks Lexicon!  The LongLocks Lexicon brings all the best tweets and links regarding long hair, hair styling, hair care and salons, all in one daily online resource. You don't even need a Twitter account to read it, you can read and subscribe to it (for free of course) from the linked title above! Alternately, you can always follow Style & Angst on Twitter, where we'll be publishing a link to the new issue every day.  Check it out, I think you're gonna like it!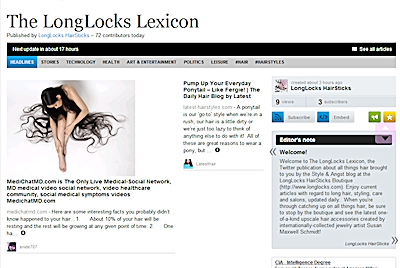 Filed under: Style