Kate Middleton: Royal Wedding Dress
By BarbaraAnne:
Fainting with exhaustion from not caring about the Arab uprisings, American floods, African chaos, and Afghan war, journalists obsessively speculated on who would design Kate Middleton's wedding dress. The day finally came. If it didn't, everyone would have died from unrequited anticipation. ;-)
When she got out of the Rolls Royce, Princess Catherine's magnificent gown was revealed. Sarah Burton, the creative director for Alexander McQueen, cut a modern design out of traditional satin, adorned with lacework. The dress itself was "something old, something new." The tiara was borrowed, and Diana's ring was blue.
British and Irish craftsmanship were celebrated today. Hand-cut French Chantilly and English Cluny lace flowers included roses and shamrocks. Lace artists used the Irish Carrickmacross technique: One applies muslin to a net base, following a design outline. Then the surplus fabric is cut away.
Her veil was ivory silk tulle trimmed with embroidered flowers, and was held in place by the 1936 Cartier Halo Tiara. Her shoes were also made of ivory silk by Alexander McQueen. Magnificent.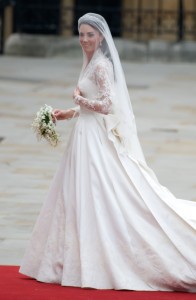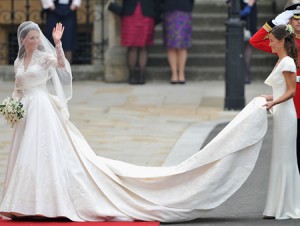 Filed under: Style
Loosely wrapped, creative, nocturnal, eternally blue, reclusive, eccentric, obsessive perfectionist... in other words, an artist.