Reem Acra's Devastatingly Gorgeous Color-Shifting Gown
Somebody needs to buy this immediately: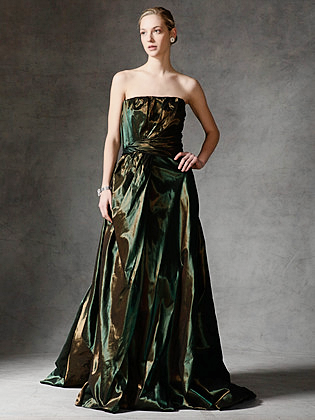 Is this not one of the most gorgeous things you have ever seen??  It is a color-shifting gown by Reem Acra and it is available at the Gilt flash sale site until Thursday (7.7.11) at midnight.  The price?  Well, it was originally $3,695 but some lucky size 8 or 10 is going to be able to grab it for $999!!  That's a HUGE savings!
Now, the reason why this immediately caught my eye is because I have designed several LongLocks HairSticks in the retired FXStix style using an identical color-shifting finish, such as the below Boro Forest Special Edition design from my 2007 collection (with handmade encased glass borosilicate lampwork beads and 22kt. gold vermeil findings), and I can't imagine anything more devastatingly beautiful than wearing a one-of-a-kind piece of hair jewelry that matches this stunning gown so perfectly:

So, if you buy the gown and you promise me you will send me a photo of yourself when you wear them with it, I will create a matching custom design of LongLocks FXStix just for you.  Simply send me a photo of you trying on the gown and your one-of-a-kind LongLocks hair jewelry design is on me!
Filed under: Style
Loosely wrapped, creative, nocturnal, eternally blue, reclusive, eccentric, obsessive perfectionist... in other words, an artist.