The LongLocks Lexicon Makes Its Debut on Twitter!
The LongLocks HairSticks Boutique is pleased to present our brand new Twitter e-zine, The LongLocks Lexicon!  The LongLocks Lexicon brings all the best tweets and links regarding long hair, hair styling, hair care and salons, all in one daily online resource. You don't even need a Twitter account to read it, you can read and subscribe to it (for free of course) from the linked title above! Alternately, you can always follow Style & Angst on Twitter, where we'll be publishing a link to the new issue every day.  Check it out, I think you're gonna like it!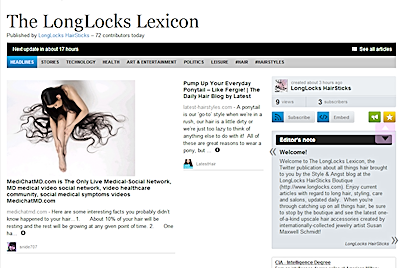 Filed under: Style
Loosely wrapped, creative, nocturnal, eternally blue, reclusive, eccentric, obsessive perfectionist... in other words, an artist.