New BijouStix Added to the LongLocks HairSticks Catalog!
New Designs!
Three new BijouStix hair jewelry designs have been posted in the LongLocks catalog, and the Special Edition Designs page has been updated. This isn't your average update, I'm introducing something new that should make a lot of people very happy, especially those who so mourned the retirement of ZenStix! All three of these new designs were created on the most gorgeous tapered wood sticks that are a bit longer than our bone sticks and just about the same width as Zens were! You like?? I'll be making these available in almost all the LongLocks styles as they are updated, but I only have 200 pairs of them so unless I can find a supplier, they won't be around forever. Prefer the bone? No problem! I can always do any design as a special order on bone for you!
Beads Beads Beads!
Any bead lovers out there? In my ongoing (and pretty much fruitless) effort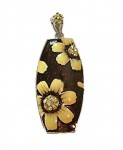 to clean out my studio, I am unloading a whole bunch of beads on eBay! I've just started listing them so there aren't too many up yet, but I have thousands to sell. Check out my eBay auctions at PaintedBride and see what I'm parting with for next to nothing, most of my auctions start at $1!
Hair Tutorial Updates!
Both the Ultimate Guide to Growing Long Hair and our Top 10 Tips for Healthy Hair at Any Length hair care tutorials have gone through minor updates. Check them out see what's new!
Fun Web Stuff!
This is one page I know just about anyone reading this will be able to relate! Check out 10 Things Only Long-Haired People Will Understand.
Today's Tip
Want to know if the hair you are losing is caused by breakage or natural shedding?  Pull out a few strands out of your brush or comb and check the length.  Hair that is about the same length as your hair will most likely be naturally shed, hair that is shorter was probably lost due to breakage.
Filed under: Style
Loosely wrapped, creative, nocturnal, eternally blue, reclusive, eccentric, obsessive perfectionist... in other words, an artist.