2009 Emmy Awards: Who Rocked the Carpet and Who… Not so Much
I need to start this post with a disclaimer.  My life is spent entirely in the LongLocks studio or working on something LongLocks-related at any of the numerous computers scattered about the house (there is no escape).  I turn on a TV mebbe once every two or three days, generally only when CNN pops up on my PC and tells me there's breaking news worthy of my attention, or when I am imbibing in my addiction to DVR'd episodes of Project Runway and The Rachel Zoe Project.  All that being said, I am pretty much clueless to most of the peeps who strutted down the red carpet this year at the 2009 Emmy Awards.  On the plus side, at least you know my fashion picks are based solely on fashion and not who was wearing it, 'cause I don't have a clue who either one of my top picks is!  Celebrity has never been able to "sell" me anything anyway, so it makes no difference to me if you are a "somebody" or a "nobody."  You're a star in my book as long as you know how to rock a great dress.
So, no, I didn't actually watch the Emmys but I did tape the red carpet (And E!'s Fashion Police, though I've not watched it yet… must not be influenced, ya know). I fast forwarded through all the commercials and every bit of Ryan Seacrest I thought I could get away with without missing any vital fashion stats, not that he'd remember to ask most of the time anyway.  Seacrest is the man who consistently wins my vote for "Most Annoying on a Red Carpet."  I never thought I could miss Joan Rivers, and then… Seacrest.  Digress.
All in all, I think the Emmys were pretty much a major disaster as fashion goes.  I had an extremely easy pick for Best Dressed, and I don't think it would have changed had there been more great gowns to choose from.  Worst Dressed, on the other hand, were plentiful, and what didn't qualify as really bad qualified for Most Boring.  As hard as it was, I managed to eek out a winner for the dubious honor, regardless.  I've included my "Dishonorable" and "Honorable" Mentions in both categories as well.
So, my vote for Worst Dressed at the 2009 Emmy Awards is…
:::insert drumroll:::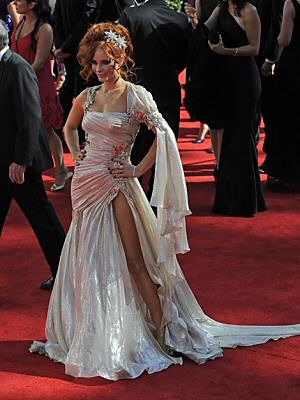 Phoebe Price in Jean Fares Couture.  There are no words.
Dishonorable Mentions: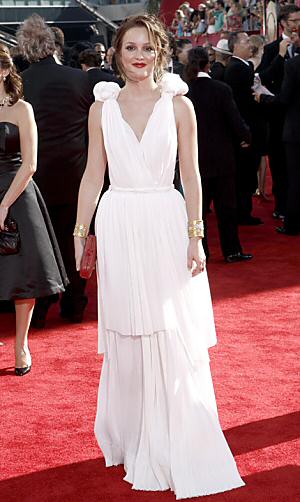 Leighton Meester in Bottega Veneta. I'm guessing the straps were waaaaaay too long.  There is no other explanation for those knots on her shoulders.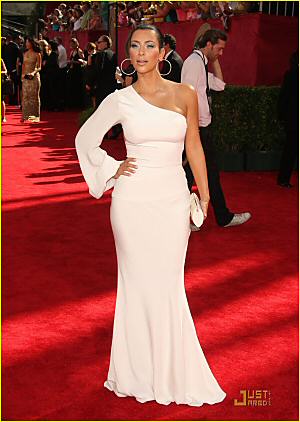 Kim Kardashian in Ina Soltani.  Kim should have been Ina something else.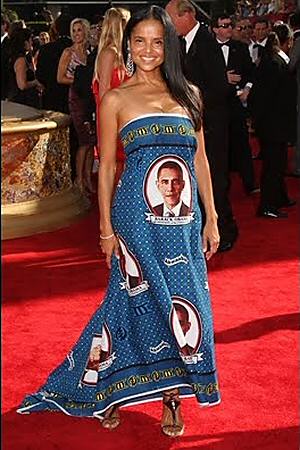 Ya know, I love him too.  And even though this was by far the worst dress on the red carpet, Victoria Rowell is the least of the worsts simply because she wore the dress to bring attention to health care reform.  If you can't dress well, make a political statement I always say.  Don't know the designer, don't want to know the designer.
And now for Best Dressed, starting with Honorable Mentions: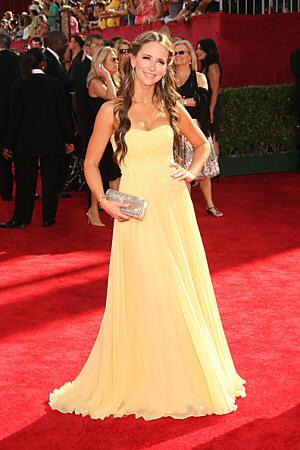 Jennifer Love Hewitt rocks Max Azria.  You can't really tell in the photo but this lemon yellow gown sparkled on the bodice and just below the waist.  Gorgeous!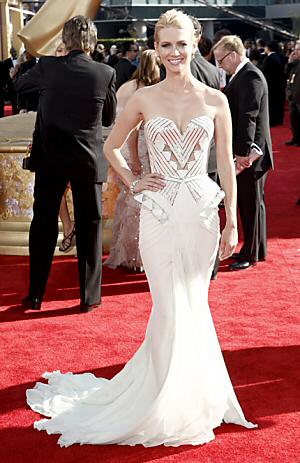 If there's one thing about Versace, you always know it when you see it.  January Jones rocked this Versace gown like no tomorrow.  Both edgy and ethereal, this was a risky choice but it sure worked for her.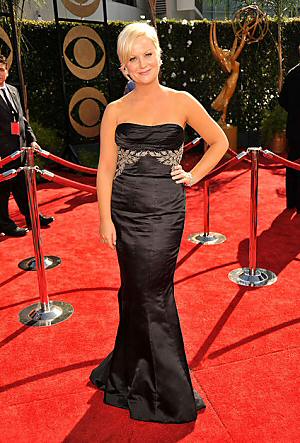 I love Amy Poehler but never did it occur to me she could rock a red carpet like she did in this stunning Reem Acra gown.  The crystal leaves that grace the front of the dress beneath the bust flowed around the gown and down the back.  This was my Best Dressed pick until I saw…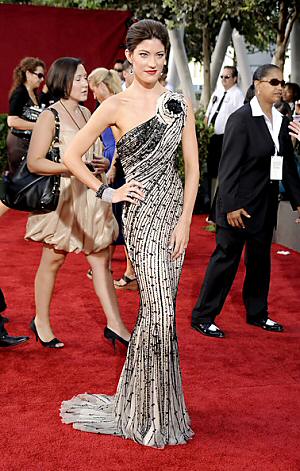 Jennifer Carpenter in Zuhair Murad. This nude and black number actually made me lose my breath when I saw it and I haven't caught it yet.  Absolutely divine.
Now I am off to see how my choices compared with the peeps who are the real pros at this stuff.  Wanna bet that Versace was a risky choice for me, too?
Filed under: Style, Angst
2 Responses to 2009 Emmy Awards: Who Rocked the Carpet and Who… Not so Much
Loosely wrapped, creative, nocturnal, eternally blue, reclusive, eccentric, obsessive perfectionist... in other words, an artist.