New LuminiStix Hair Ornaments Posted at LongLocks!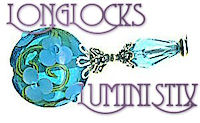 Four new LongLocks LuminiStix designs have been posted in the LongLocks catalog and the Special Edition Designs page has been updated!
Today's Tip: Do you know there's a  section in the LongLocks Boutique that features curated hair care products, cosmetics, jewelry and wedding essentials that represent the best picks from Amazon in these categories?  Check out Sublime Indulgences!
Filed under: Style
Loosely wrapped, creative, nocturnal, eternally blue, reclusive, eccentric, obsessive perfectionist... in other words, an artist.