Just in Time for Halloween, Our Special Effects Haircolor Tutorial is Updated!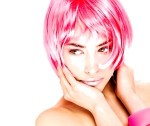 Looking for a temporary way to rock a wild haircolor for  Halloween? Want to try a daring color before taking a permanent plunge? Ready to do the dirty deed and follow in Helen Mirren's footsteps and replace that encroaching grey with a luscious shade of baby pink? No matter which direction you want to head (pun most certainly intended), we've got you covered with our newly updated tutorial, "Creating Special Effects Using Dramatic Haircolor!"
I just had a thought… can you imagine how gorgeous silvery gray hair would be with a few well placed light pink streaks?  OMG, one of my favorite color combinations of all time. I want all my hair to turn gray *now* dammit, enough is enough already! GIMME!  :::whine:::
Filed under: Style
Loosely wrapped, creative, nocturnal, eternally blue, reclusive, eccentric, obsessive perfectionist... in other words, an artist.