New PearliStix Hair Sticks Posted in the LongLocks Catalog!
New Designs!
Four new PearliStix designs have been posted in the LongLocks Catalog, the Special Edition Designs page has been updated, and three "last chance" special order designs have been moved to Hair Today, Gone Tomorrow.
Some More Teasing!
I made this paper recently, and it is unbelievably iridescent and just gorg. Guess what I'm using it for?  O:)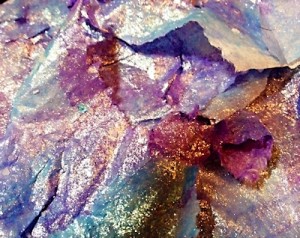 Fun Web Stuff!
Did you know that there's a "Pinterest" just for hair?  It's very kewl, I wish I had more time to explore it.  It's called BangStyle and you can find me on it here. I'm hoping to become more active on it sometime in the not too distant future!
Today's Tip
Oh no!  Out of shaving cream, you have a hot date and your legs look like twin saguaros?  Try a little hair conditioner, most make great shaving lotion!
Filed under: Style
Loosely wrapped, creative, nocturnal, eternally blue, reclusive, eccentric, obsessive perfectionist... in other words, an artist.