Embracing Your Gray Hair: Learning to Love Silver Tresses
The Beauty of Going Gray
I have long been an advocate of gray hair, especially long gray hair. I think it is beautiful as a rule, and often times can even qualify as quite stunning. Whenever I see a woman in public rocking beautiful long gray tresses I always make a point of complimenting her, just in case she ever had a moment's doubt on whether she was doing "the right thing." I have forever longed for my own and was thrilled when my first gray strands finally started showing up well past the age of 40. Ten years later, I am disappointed with my inability to really nurture a healthy streak and still only have a small not-very-noticeable section of about 50 gray hairs above my left brow. I so envy those who have sparkling silver tresses.
Try as I might over the years to convince many of LongLock's Rapunzels not to damage their hair with harmful dyes and to learn to embrace their beautiful silver threads, it hasn't been until recently that I've noticed more willing to give up the chemical warfare against these notorious "infiltrators." It has been a hard fight however, and society as a whole has been slow to catch up with my point of view. Despite the dangers to both hair and body from using harsh chemical dyes, gray hair never really came into vogue. That is… until now.
Silver Locks As a Fashion Trend
As we all know, all good fashion trends need to start in celebrity circles for them to really catch on in the mainstream. I suppose as far as natural hair color goes, Jamie Lee Curtis is to be thanked for being among the first who bucked the "dye it till you die" Hollywood tradition and started the trend. But until it becomes something people do intentionally, it's not really ever going to become a "thing." For that, we have Kelly Osbourne to thank. Before rocking her now gorgeously dusty purple locks, Kelly's hair started off an intentionally dyed fabulous shade of pewter gray. I remember my initial relieved sigh of "finally" when I first saw it, though I don't remember where she was at the time (it was likely a red carpet as I don't really watch much TV otherwise), and hoping she wouldn't get style dissed for this dramatic, and at the time, very unusual look. From what I recall, reviews were mixed with more people leaning slightly toward the "what was she thinking" side.
Thankfully though, that didn't completely obliterate the idea of gray hair as a fashion trend. Although Kelly began moving through her various shades of pastel purple shortly after that time (I never got to see the pewter shade on her again), even her current dusty purple has a decidedly gray hue, and shades of gray and silver have begun to show up with a little more regularity throughout fashion circles (including Gaga's gorgeously silver tresses gracing the cover of Vanity Fair, as seen in the image above). Now I am even seeing the occasional teenage girl sporting butt-length streaks of gray or a head full of flowing silver curls, and more and more women are telling me they're giving up the dye once they figure out how to truly love their gray locks, which I certainly understand can be an issue when you have dyed hair to grow out. Fortunately, there are ways to resolve this problem.
How to Go Gray Gracefully
If you are ready to stop using dye and to sport your naturally beautiful silver shimmer, getting from point A to point B will depend a lot on how much gray you already have, how it's distributed throughout your locks, and what color you dye your hair:
If you dye your hair a color that is close to your natural shade and your grays are few and distributed throughout your hair, or if you are lucky enough to have a lock of grays beginning to form a streak (in which case, I hate you), you will have the easiest time of it and may be able to make the change simply by stopping the dyeing process and letting your hair grow in naturally.
If you have enough gray that there is an obvious line of demarcation between where your natural hair ends and your close-to-natural-color dyed tresses start, then you have a little more work to do, but it's still not a really difficult process. In this case, you can simply change to a non permanent, entirely peroxide-free method of coloring such as (Loving Care or henna)  and continue to color your hair with the healthier alternative until you have managed to trim your hair enough, and grow it out enough, that the entire length will be your natural color when you stop applying the temporary dye.  This method will work best for those with less than 50% gray hair.
If you have a higher percentage of gray or you don't want to be bothered with the constant reapplication using non-peroxide dye will involve, an alternative method would be to go to the salon and have your stylist streak the entire length of your hair a color close to your natural silver. This will effectively hide the line of demarcation and will make growing in your natural color much easier as you continue to trim off the dyed ends. Keep in mind that because you will be having the streaking applied to hair that has already been dyed, you definitely want to go to a salon to have this done, this is not a job for an at-home product.
The same is true if you are double processing your naturally brunette hair to a pale blonde (or an equidistant color from what's natural). In this case it's probably fairly damaged and definitely extremely delicate, so a salon visit is also in order in this situation. If you have been double processing your long hair, it's likely you will first need a good cut, especially if long healthy locks are your goal. Once you determine what your initial needs for healthy hair are, discuss with your stylist what your goals are for keeping your hair its natural color (and keep in mind it's not in her best interest to have you stop coming to have your hair dyed, so take any recommendations she makes for reasons not to do that with a grain of salt… and then find yourself a stylist whose first priority is what you want).
Making your Silver Sparkle like Sterling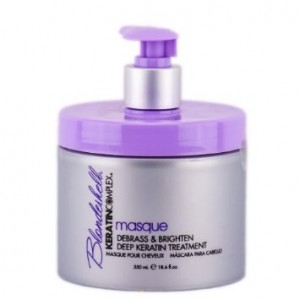 Once your hair has returned to its natural color and healthy state the trick to really loving it is making it sparkle like only silver locks can! In fact, I am positive the reason most reject flaunting their gray is because it can easily become dull or acquire a yellow tinge. Fortunately there is a a very easy fix for this in the form of a variety of shampoos and conditioners formulated specifically to keep white or gray hair sparkling and without a trace of dulling yellow. Considering that for decades the only brand available was Clairol's Shimmer Lights
, the prevalence of well-known and loved salon brands venturing into this market with a vengeance also speaks to just how popular the trend is becoming! I've listed links to some of the highest reviewed brands on Amazon below:
If You Have It, Flaunt It!
So in the end all you hold-outs no longer have an excuse for using damaging and potentially unhealthy (especially the darkest dyes) haircolor to camouflage your gray. Wear your hair long and beautiful (by all means avoid a matronly cut, that will age you far more than having gray locks ever will!), and let that silver sparkle!
Filed under: Style
Loosely wrapped, creative, nocturnal, eternally blue, reclusive, eccentric, obsessive perfectionist... in other words, an artist.