We've posted a brand new article in the form of a top ten list.  Check out our Ultimate Guide to Healthy Hair and learn how to get and keep your hair in gorgeous condition!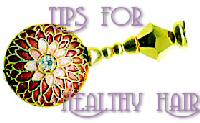 Top Ten Tips for Healthy Hair
Filed under: Style
Loosely wrapped, creative, nocturnal, eternally blue, reclusive, eccentric, obsessive perfectionist... in other words, an artist.