Forgive me for using my blog to post this review, but there doesn't seem to be anywhere else to do it that will allow it the impact it deserves.
I just returned home 40 minutes ago at 3:15pm from an appointment I had at Brandywine Valley Pain Control scheduled at 1pm. I was ten minutes late but because the office I went to at 105 Vineyard Way in Jennersville, PA is not actually their office (apparently it's one they *borrow* once a month from Delaware Valley Pain and Rehab), I was unable to locate their phone number on the web anywhere to contact them (and neither for that matter, could Siri). By the time I contacted my primary care physician's office and they tracked down the only number they had, the one for Brandywine Valley Pain Control's Exton, PA office (located at 460 Creamery Way), I was pulling into the parking lot.
Mind you, when I first attempted to make an appointment with Brandywine Valley Pain Control I was told they would "get back to me in 10 days to 2 weeks and offer me an available appointment."  Two weeks later they did that, for an appointment another month later.  That should have been my first clue.
After arriving today for my long-awaited scheduled appointment the receptionist proceeded to read all my credit card information OUT LOUD to charge my copay. When I said I didn't think that was very secure she assured me she "knew the people in the waiting room" and I didn't "have anything to worry about."  Yes, I'm sure she knew them extremely well.  Of course if she hadn't known them extremely well, she wouldn't have read my credit card info out loud, right? I might add $1000 was stolen from my business checking account five days ago when my check card was compromised, how I have no idea.  You'll have to excuse me if I'm not as trusting as this inept receptionist apparently is.
Anyway, four hours later I've finally stopped sobbing now that my second round of pain meds have kicked in and I've drunk some coffee (which seems to help for some reason). Yes, she with the pain tolerance level that has allowed her have a root canal (and every filling in her adult life) without Novocain and suffer with daily gallbladder attacks for two years while doctors repeatedly attempted (and repeatedly failed) to remove a stone from her bile duct in an effort to avoid open surgery, came home sobbing in agony because she was forced to sit on a rock hard chair with intolerable back pain and nerve pain in her legs for *two hours* at a PAIN CLINIC. The pain level ultimately forced me to leave WITHOUT SEEING THE DOCTOR.  Apparently the doctor was too busy dictating notes to come see me, even though he'd been told by the nurse some time earlier that I had reached the end of my pain tolerance when my distraught husband inquired of her if the doctor was ever going to make an appearance.  Is Brandywine Valley Pain Control completely ignorant of why patients come to see them or are they just heartless? I suspect a bit of both. Either one is unacceptable.
In summary, the *last* place anyone should go for patient care in Chester County is Brandywine Valley Pain Control.  They are intolerably incompetent, unprofessional and uncaring.  Unfortunately I don't know the name of the doctor I was supposed to see but I intend to find out… and Aetna is next in line to hear my story.
With that my dear reader, I hope your day is infinitely better than mine has been.
UPDATE 1.31.13: I was just told by my husband ten minutes ago that the receptionist/nurse actually *refused* to tell the doctor about my agony because she "wouldn't interrupt him while he was dictating."  My husband decided it would be best not to inform me of this while we were there because I was already extremely upset, so I was under the impression the doctor had been apprised of the situation. Apparently other than the doctor choosing to make dictations when he knew he had a patient who had been waiting for two hours, he was apparently unaware of my agony and therein the majority of the fault lies with the aforementioned totally inept receptionist.
Filed under: Angst
Though we lost our electricity for a couple days, the damage here was thankfully minimal, especially considering how horribly others are suffering. We consider ourselves incredibly lucky. Thank you so much to all who reached out to us in anticipation of Hurricane Sandy's predicted path!
OK guys, this is the satellite prediction for Sandy's path.  The green spot be we.  Wish us luck! =======:o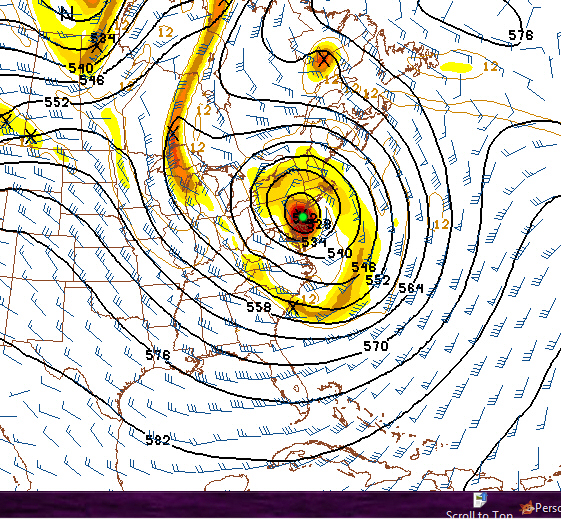 Filed under: Angst
First things first… thank you to everyone who participated in the SOPA protest!  I have updated the original post with the good news and a link to the truly outstanding stats!
Nextie, I have updated the text link to subscribe to Style & Angst via RSS or email, which you will find at the top of the right sidebar.  Apparently there were some issues with the old one, so if you tried to subscribe and couldn't you shouldn't have any issues if you try again. If you do have any problems, please just leave a message in the comments!
And lastly, LongLocks, or rather Style & Angst, has joined Pinterest!  If you'd like to follow Style & Angst, you can do so using the button that also appears at the top of the right sidebar.  I'll be posting LongLocks hair jewelry designs and other beautiful and eclectic art I come across in my travels on the web.  If you are not yet a member and you'd like an invite, please feel free to request one using our Contact Us form.
Have a great weekend everyone!
Filed under: Style
I am thrilled to tell you that the internet-wide protest was a great success and both the SOPA and PIPA bills were dropped by Congress yesterday (the 20th). The protest was seen by huge numbers, check them out at SOPA Strike. Thank you to all who participated and changed what was thought to be a sure thing!

The LongLocks HairSticks Boutique and Style & Angst blog are participating in an internet-wide protest against two bills currently being considered in the US House and Senate. Called SOPA and PIPA, these bills threaten to destroy the internet as we know it.
If either one passes, your favorite sites could disappear forever.
Filed under: Angst
"But soft! What light through yonder window breaks?
It is the East, and Juliet is the sun!
Arise, fair sun, and kill the envious moon
Who is already sick and pale with grief."
In the play, Mr. Capulet tried to marry his daughter off to the highest bidder, but that didn't go so well. I have greater hopes for Sotheby's auction of the biggest yellow diamond in the world, the Sun Drop. Look at the clarity with which it catches dark peach and violet light.
Elizabeth Taylor owned it. It seems while everyone was frothing at the mouth in anticipation of the auction at Christie's next month, Sotheby's siphoned off a few choice gems of its own.
Filed under: Style
Barbara Steinberg of Barbaraanne's Hair Comb Blog has conducted and posted an interview with me all about LongLocks HairSticks!  You may know Barbara as a frequent guest poster on Style & Angst.  Check it out!  And thank you Barbara!
Filed under: Style
By BarbaraAnne:
Style, savior faire, and courage are links on an 18K gold chain. The world changes when a visionary moves philosophy forward. My father was such a man.
In May 1964, he and a founding group of 13 musicians created The Symphony of the New World, and as one of them told me, "Benny went out and got the money."
In the concert program, he wrote, "In creating job opportunities for the many thoroughly trained, top-flight nonwhite instrumentalists, who hitherto have not been widely accepted in this nation's symphony orchestras, the Symphony of the New World aims to serve as an example of the principle of racial-equality-in-action to musical groups throughout the country. In the belief that so many of our symphony orchestras are not of today's world, it has called itself The Symphony of the New World."
He blazed across the world stage, my father…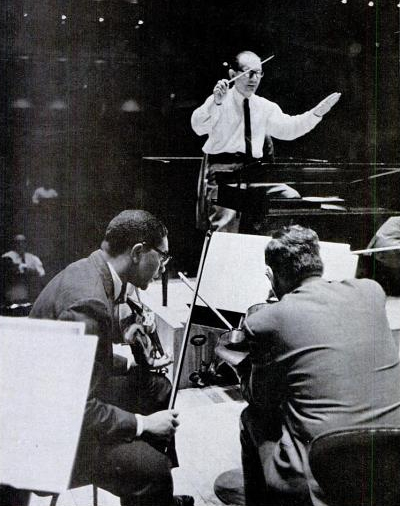 Filed under: Style