New DragonStix Hair Accessories Posted at the LongLocks Boutique!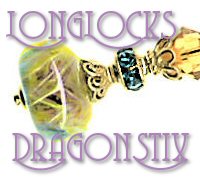 Five new LongLocks DragonStix designs have been posted in the LongLocks catalog, and the Special Edition Designs page has been updated!
The Prom Hair Tips page has been updated with the  color forecast for Spring 2012 (useful even if Prom is a distant memory, back when it still had the word  "the" in front of it).
Today's Tip: Add a little water to your shampoo to increase its ability to lather.  You can do this in the palm of your hand, or by simply ducking your head quickly under the water once you've applied the shampoo.
Filed under: Style
Loosely wrapped, creative, nocturnal, eternally blue, reclusive, eccentric, obsessive perfectionist... in other words, an artist.