We're Having a Black Friday/Cyber Monday Sale at the LongLocks Boutique!

We are having our first PUBLIC sale at the LongLocks Boutique in over a DECADE!  Tell your mom! Tell your friends! Tell your husband! Tell your kids! Don't tell your accountant!
Save 10% until midnight ET Monday, November 28, on every eligible LongLocks or Waltzing Willow fine sterling silver jewelry design you purchase (which is pretty much anything but gift certificates and Longlocks LockAway layaway orders)!
This will be our last sale of the year, so if you are ready to treat yourself at the end of a rough one, now is the time to do it! Waited too long to have a special order of your very own one-of-a-kind LongLocks design delivered by the holidays? We have a fix for that!
There are also a few first editions in the boutique too, (which along with our Waltzing Willow Jewelry, can be shipped immediately if you need a gift for the holidays). Keep in mind there aren't many, and unfortunately they probably won't last long!
And don't forget several styles of LongLocks HairSticks are being retired, you'll find them listed under "Retiring Hair Stick Styles" in the menu, and there are a few designs in the retiring styles in Hair Today, Gone Tomorrow as well.
BONUS!
Spend $200 and we'll send you a beautiful, silk brocade jewelry roll (valued at $14) for FREE!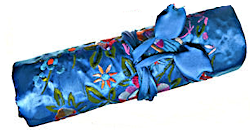 HOW TO GET YOUR DISCOUNT:
Enter : THANKYOU into the Discount Coupon field in the shopping cart and click "Recalculate" to get your sale discount. Or better yet, join the FREE LongLocks HairSticks Collectors Club (make sure we receive your application before you place your order), and we'll apply a 15% discount to your order when it's processed, plus all the other Collectors Club goodies! Members of the Collectors Club earn FREE gift certificates and are entitled to FREE domestic shipping for any order that totals over $125 after discounts, plus lots of other incredibly kewl FREE stuff!
Have a safe and happy holiday season everyone and thank you for another great LongLocks year (our twelfth)!
Filed under: Style
Loosely wrapped, creative, nocturnal, eternally blue, reclusive, eccentric, obsessive perfectionist... in other words, an artist.