About Our Chinese Silk Brocade Jewelry Rolls

Our Chinese silk jewelry rolls are the perfect solution for safely storing and/or traveling with your favorite jewelry, especially LongLocks HairSticks®! Each roll is made of beautifully embroidered Chinese silk and features three zippered compartments that are the perfect size for safely tucking away necklaces, bracelets, earrings and standard length LongLocks HairSticks.*

Our silk jewelry rolls also feature a large inside pocket and a ring holder that buttons into place. Once filled, the entire pouch can be rolled into a compact size and secured with the attached tassels that have adorable silk lotus blossoms at each end. When open, the jewelry roll measures approximately 6" by 9".

These elegant silk pouches make lovely gifts for wedding attendants or anyone special whom you know would appreciate a little luxury!
*Please note: Our current stock of silk jewelry rolls are a bit smaller than the ones we usually carry. Most LongLocks designs created with bone hair sticks will fit in these pretty little brocade pouches. LongLocks RapunzelStix or very long SwingStix will not completely fit if inserted horzontally in the pockets.
COLOR AVAILABILITY: Our jewelry rolls are currently available in sage green, white, marigold, chocolate and rose pink. Please specify at least two color choices in the feedback section of the secure shopping cart, or let us choose a dazzling color for you! Please note that fabric and brocade patterns may vary slightly from the image above.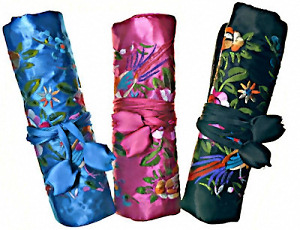 | | | |
| --- | --- | --- |
| Chinese Silk Jewelry Roll: $14.00 | | |
Italian metal leaf
and hand painted
hues are reminiscent
of ancient Roman artwork
on our LongLocks
RomanzaStix
Looking for romantic
hair accessories
for your wedding
day? Check out
LongLocks BridalStix
If you include
the exotic in your
sense of style
you'll love the
watercolor dragonscale
finish on our LongLocks
DragonStix