Elizabeth Taylor Jewelry Sale at Christie's
"Her beauty was luxurious. Her eyes just made you melt into her," said my friend Adam Redfield. He is the son of the late actor William Redfield, who knew Elizabeth Taylor. Adam had the privilege of meeting her once when he was a young man.
She also held the first fundraiser for AIDS research in 1984, recognizing the epidemic and the humanity of victims in the face of prejudice and the silence of Ronald Reagan. This was the moral character of the woman whose jewelry collection sold for $115 million at Christie's last night.
Her taste and the men who loved her were legendary. Most coveted was the Peregrina Pearl. A 50-carat pearl, it was found by an African slave in the Gulf of Panama. He won his freedom with it. In 1554, Philip II of Spain gave it to his bride, Mary I of England. After her death in 1558, the pearl rejoined the Spanish crown jewels. Elizabeth of Borbón, Queen Consort of Spain and first wife of King Philip IV, was painted wearing the pearl by Diego Velázquez in 1632.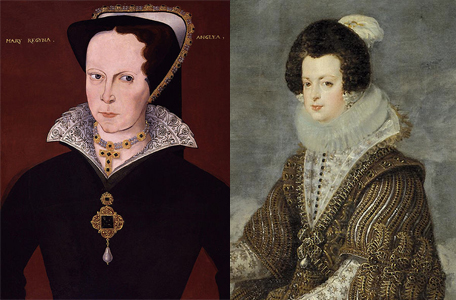 Richard Burton bought it as a Valentine's Day gift for his wife, Elizabeth Taylor. He paid $37,000 in 1969. She had Cartier set it in a ruby and pearl pendant in 1972. The Peregrina Pearl necklace sold for $11.5 million yesterday at Christie's.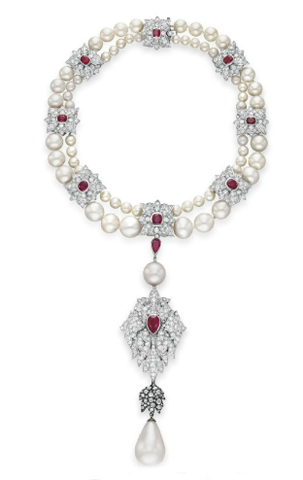 Richard Burton also bought her the Krupp diamond for $305,000 in 1968. Named for the wife of German industrialist Alfred Krupp, who supplied weapons to Adolf Hitler, Elizabeth Taylor wore it almost every day for the rest of her life because she felt it was justice that a nice Jewish girl should have the ring. It sold for $8,818,500 to Daniel Pang, representing the Korean hotel chain E-Land, which plans to display the ring at its E-World theme park in Daegu.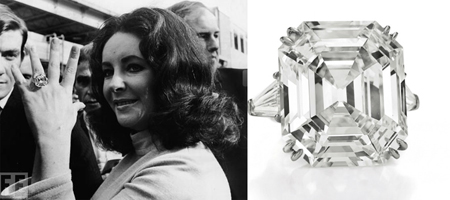 Here were some other notable sales:
An emerald and diamond necklace by Bulgari: $6,130,500.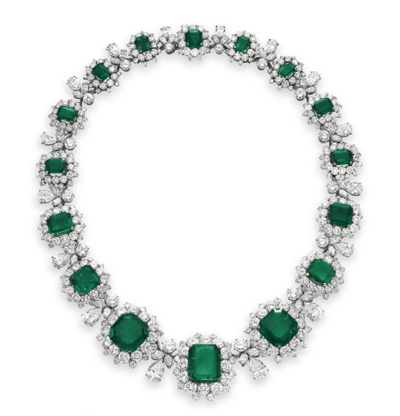 The Taj Mahal, a heart-shaped, table-cut Indian diamond from 1628, set by Cartier in a pendant of rubies, jade, and gold: $8,818,500.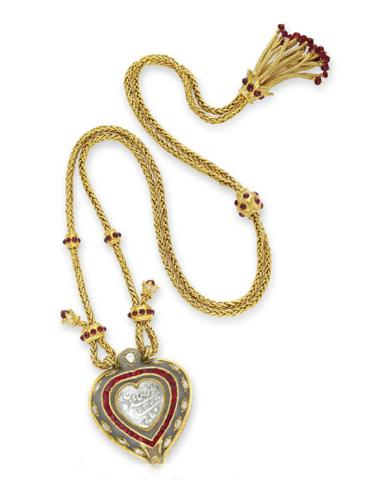 A 52-carat Burmese sapphire sautoir, which Bulgari put on a long diamond necklace with geometric sapphire accents, the pendant can also be worn as a brooch. $5,906,500.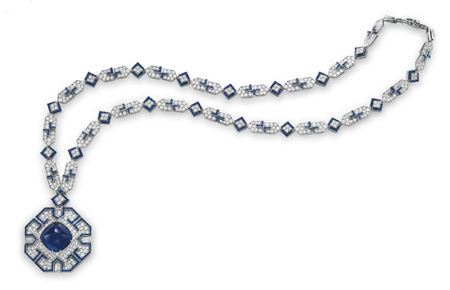 The estimates Christie's put on Elizabeth Taylor's jewelry were so low, the audience laughed during the auction. Christie's underestimated her character, but the world did not.
Filed under: Style
One Response to Elizabeth Taylor Jewelry Sale at Christie's
Loosely wrapped, creative, nocturnal, eternally blue, reclusive, eccentric, obsessive perfectionist... in other words, an artist.