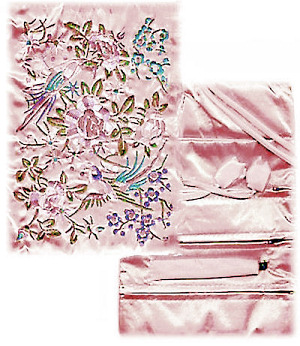 Our Chinese silk jewelry rolls are the perfect solution for safely storing and/or traveling with your favorite jewelry, especially LongLocks HairSticks! Each roll is made of beautifully embroidered Chinese silk and features three zippered compartments that are the perfect size for safely tucking away necklaces, bracelets, earrings and standard length LongLocks HairSticks.*

Our silk jewelry rolls also feature a large inside pocket and a ring holder that buttons into place. Once filled, the entire pouch can be rolled into a compact size and secured with the attached tassels that have adorable silk lotus blossoms at each end. When open, the jewelry roll measures approximately 6" by 9".

These elegant silk pouches make lovely gifts for wedding attendants or anyone special whom you know would appreciate a little luxury!