The bone hair sticks in the LongLocks ShimmerStix style are decoupaged with paper I hand paint with colors I mix in acrylic and then combine with an artists' medium that gives an entirely new and exuberant meaning to the word "iridescent." The iridescent medium lends a shimmer to the paint colors that is just
phenomenal
. Below is an image of one of the handpainted papers I created for this style: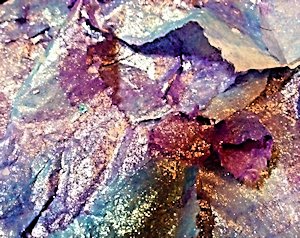 Once the decoupage has been applied to the hair sticks, they are layered with several coats of enamel, some of which include the iridescent medium to give depth to the shimmering effect. The paper then becomes translucent and the shimmer scatters light across the glossy surface. The final effect is both beautiful and mesmerizing, and creates hair jewelry like no other found anywhere on earth.
Even though the shimmering finish certainly is opulent, its organic handmade nature lends itself to keeping the LongLocks ShimmerStix style versatile, perfect for casual hairstyles, formal updos, and anything inbetween. Like most LongLocks styles, every design created in the LongLocks ShimmerStix style is one-of-a-kind, recorded in the LongLocks archive, and
never
exactly duplicated!